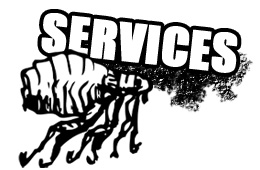 We offer many different service plans and treatments for MANY different pests.
What can we control????
We service for all kinds of pest; including…
Roaches
Spiders
Silver Fish
Crickets
Ants
Fleas
Mice
Rats
Bee's
Wasp
Bed Bugs
Types of service . . .
The following is a listing of services we can offer YOU.
TERMITE INSPECTIONS
MONTHLY SERVICE
BI-MONTHLY SERVICE
QUARTERLY SERVICE
YEARLY SERVICE (ASK FOR DETAILS)
1 TIME SERVICE (ODD JOB)
** All odd job's come with a 30 day guarantee **
If a problem should arise during your "off" month or a week or so after your monthly service I will come back and see what's going on and retreat for FREE.
That is an extra service guarantee!!!!!